Friday, July 14, 2006
Hey? Who's Partying!?!?
So it has come and passed. The Las Vegas Summer League will conclude today (July 14th) with a slew of games and a handful of "bros" looking for new summer jobs. We all know about the big
name rookies making their debut. The Morrison's, LeMarcus', Foye's and Roy's. We also know about the big name players who came to "bring the pain" (or prove that their is no more pain..). Amare Stoudamire and Ron Artest were present. Also present were 2nd year players (Martell Webster, Ryan Gomes, Joey Graham, the three Knick tenors, etc.) who are all ready to take the next step in the Association.
The most intriguing stories, however, are seeing the names of invites who are looking to make a roster and then playing America's favorite passtime, "How the hell did he get an invite?"
So, Let's take a look at a few players present in Vegas these past few weeks.
Minnesota Timberwolves:
okay, so I was going to list the players individually, but it seems like the T'Wolves had a few interesting players on their roster. We all know who Randy Foye is
and we know he is going to be a real player in the league, possibly as early as this year. But, there is an even more popular name on their roster. This being a man who's biggest mistake was signing a contract with ESPN and then letting it all get to his head.
Paul Shirley
, better known as the 12th man blogger on the Pheonix Suns, took his ranting and raving to
The Netwo
rk
, and, in my opinion, certainly lost a lot of gusto as he stopped writing about being the "white guy" at the end of the bench and started writing about being the "white guy" with a 'woe is me' attitude who is struggling to feed Latrell Sprewells kids on an ESPN salary. So, the T'Wolves got cute and invited him to participate in the summer league. Shirley averaged 23 minutes per, 8.5 ppg, and 4 rebounds per game. Not bad, I guess.... well, if this were the regular season and he wasn't playing against a handful of other Paul Shirleys. With that being said, we look forward to reading your future blogs about how awful life is playing basketball in Greece, or Spain, or any other foreign country for a 6 figure salary.
Other T'Wolve notables:
-Mississippi star (circa 1998)
Ansu Sesay
played 3 years with the Sonics from '01-'04, after being named the NBDL's MVP in the 2001-'02 season. In other words, Ansu, it was nice seeing your name again in print, but have a great summer overseas.
-Gonzaga bruiser
J.P. Batista
got the call and may actually make the team. Good. Maybe solid play by Batista will get Kevin McHale off the hook for his cheap shot on
Kurt Rambis
.
Pops Mensah-Bonsu
, the George Washington standout, was invited to play for the Dallas Mavericks summer league. He averaged in double figures in scoring each of his four years at GW (10.1, 11.6, 12.6, 12.6) , however, he never really took stride and improved in the way that many scouts thought he would. Me, I'm just hoping to have this guy in the league because of his first name. It's like when you see those sports movie where the young talented rookie comes into the locker room "owning his shi*" and he refers to the tattered veteran as "Pops" (ie. "Mover over 'Pops,' and let the young stud show you how it's done." I think that was a sports movie....).
Rodney Billups
, the younger brother of Chauncey, actually got invited to play in the Vegas Summer League by none other than the Detriot Pistons. He averaged 8 ppg for the Denver Pioneers. Wow. Really, wow. He's like that kid you went to college with who was always hungover and sleeping through class, while all this time they are engraving his name on a plaque at his father's Fortune 500 company and you are cashing in your unemployment checks and feasting on dollar menu items. I know this story all too well. So, Rodney, take your 1.7 ppg and Gerry McNamara's roster spot and move along. I'm sure there's an album you need to produce somewhere.
This leads us to the next shining star on the list,
Mr. Wayne Wallace
. Yes,
t
he Detroit Pistons gave a roster spot to Ben Wallace's nephew. Sure, he played 2.7 minutes per game and didn't score a SINGLE point, but, the kicker is that I'm sure when Ben asked for a "solid," the Pistons didn't think that he was going to jump ship and land in Chicago. Ben Wallace 2, the Pistons 0!
Also,
Mateen Cleaves
, who's like the guy who's always the last to leave the party, returned to the Pistons to see if there was any room on the Dance Squad or if he could score free season tickets on the end of the bench. Good luck, Mateen, after all, the Las Vegas Summer League website has you listed as "Martin Cleaves." That certainly can't be good for business.
I don't want to say there's a "character overhaul" going on in Houston, but... well let me give you the names and you tell me what about each of these guys doesn't scream "soft, non-athletic, white guys, who can't create their own shot, but if they could, they would shoot the lights out."
Pat Carroll:
Matt Frieje:

Steve Novak:

Patrick Beilein:

Matt Haryasz:

Mamadou N'diaye: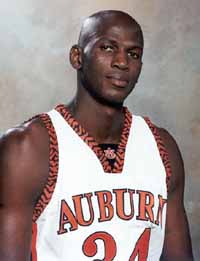 (Woops!)
So, there you have it. I'm not saying that... well, maybe I am saying something.
So good luck to all of the above and also to these notable names:
Darius Washington (Memphis: "should have stayed"), Chris Carrawell (Duke: "Still trying?") Bonafice N'Dong (Senegal: "please, for jersey sake, make the team!"), Omar Cooke (St. Johns: "the legend, but certainly not the man or the myth.") and William Avery (Duke: "at least Dickie V still believes in you!")