Monday, August 21, 2006
1986 All Over Again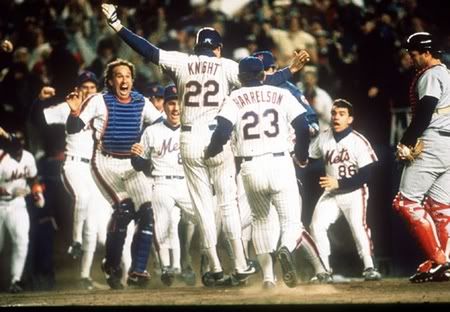 On a rainy Saturday night at Shea Stadium, the New York Mets saluted the ever-popular 1986 World Champs with a ceremony for the.... well, for the ages?
The Mets began the 30-minute ceremony in the rain, with WFAN's Howie Rose standing front and center on a slick tarp donning the 20th anniversary logo. Behind him were 1986 podiums where players would stand after coming out of the crowd WWE style. Many of them stopped to kiss GM Frank Cashen, who looked like he was stopping by on his way to his own funeral (but we all still love him!).
Present among the 1986 contingent were the aforementioned Cashen, Bud Harrelson (who, by the
way, got one of the biggest ovations of all), Gary "The Kid" Carter, Ron Darling, and Keith Hernandez (would you be surprised if he wasn't anywhere the Mets are nowadays? Oh, and Howie Rose is still making the old "he dated Elaine Bennis" joke).
Also representing were Lenny "Nails" Dykstra, Mookie Wilson, HoJo, Kevin Mitchell (still as scary as he's ever been), Kevin Elster, "El" Sid Fernandez, and the highlight of the night, Darryl Strawberry.
Howie would say a few words about each player, and then they were given a fancy little umbrella to cover their 1986 throwback heads. It was a nice ceremony that was capped off with some guy parachuting into the stadium, leaving some to question whether or not it was Ray Knight. Speaking of Mrs. Nancy Lopez, he was one of a few '86 Mets not present whom you would have liked to see. Others included Doc Gooden, Davey Johnson, and nine at-bat wonder Barry Lyons.
All-in-all it was nice to see those guys still alive (due to their extracurricular activities).
Other highlights of the night included:
-A group of middle aged men trying to figure out why John Franco didn't show up. Well, maybe the 1986 Reds were celebrating Bo Diaz day and since John Franco was on THAT team, he was probably there.
-Said group of men explaining the rules of baseball to a guy who had never seen a baseball game before. Is there nothing more exciting than listening to a group of men who have seen two baseball games in their lifetime explain the rules to another who had seen none? Especially the MLB-instituted rule that you either throw a visiting team's home run ball back, or sell it on eBay (make sure you decide and tell your section before they stone you, pal).
-And the highlight of the evening (and
maybe even the year): In the 6th inning the Mets made an announcement thanking "All those who helped in the production of '86 Night." The names of those who involved scrolled along the big screen while "That's What Friends Are For" played over the loudspeakers. In a "I can't believe this is happening" moment, the entire crowd turned silent. Soon, everyone in the upper deck began to sing the chorus in complete harmony: "keep smiling, keep shining, knowing you can always count on me... for sure, that's what friends are for!" .
It was an instant smile moment, and things only got better from there. With the song over and the inning about to begin, the crowd continued to sing together (with a bit of an "arms around the dude next to you sway").
"In good times, and bad times, I'll be on your side forever mooooooore! That's what friends are for!"
And then, like that, it stopped. No one seemed to question the fact that we all just sang along to "That's What Friends Are For". The game continued on, as if we all just weren't a part of the strangest moments in baseball sing-along history. Maybe we are just making a bigger issue out of this than what needs to be made. But our ears didn't deceive us -- we heard Mets fans and Rockies fans singing along in harmony. Yeah, we did. I guess bygones have officially become bygones.
Comments:
There were Rockies fans there? There are Rockies fans? Wait, who are the Rockies? I thought the Mets were playing the '86 Mets? Mookie Wilson was loud...
I'm sad I missed it. Was Danny Heep there?
Here's something that amazes me: If you ask Mets fans which pitcher led the '86 team in wins (and the whole NL in win-loss record), maybe 25% of them will know the answer. Was he there? Is he anywhere these days?
Post a Comment
<< Home