Thursday, June 29, 2006
Thy Draft Be Done....Son!
Well, I've just removed my hands from my head. My brother's been repeating the name "Renaldo Balkman" in the form of a question. I'm trying to find the appropriate answer (or shall I say question) for him since i think i've seen him play three, maybe four, times. And yes you could have convinced me that drafting a combo guard at the 20th pick would have been more sensible than drafting Balkman, a guy I'm sure I've seen at my gym and only remember him because he can "jump out of the gym" and while he's working out all I can think is that he's a "motor" guy, or "hustle" guy. But then again, how often do 6'6" "hustle" guys come along?
Everything you can say about this pick has been said. There are a million unanswered questions that Isaiah will never even address. I highly doubt that the Pheonix Suns were going to pick Balkman at 21, but let's, for now, forget this pick even happened and talk about the rest of the night, which turned out to be chock full of "2-hat guys."
As we all know, the first pick was 7 foot Italian Andrea Bargnani. How can I argue? How can Dickie V. argue? Wait, he can. Dickie V. kills the pick only because he's never seen Andrea play more than 10 minutes and like all, not named Chad Ford or "Big Baby" Davis, jumped on the Tyrus Thomas train after his tourny run. Tyrus is a good player, nice upside, athletic, good basketball IQ, work horse, intersted in genomics, and a 'freak on the floor.' But can we already say that he is better than Andrea? I can't. Dickie can't. Stephen A can't. Maybe Fran Fraschilla can, but I can't still. So let's stay away from the top of the draft which had the 11 picks, sans Sene (who probably wouldn't have slipped past the Hornets at 12, though he's a major project), went just about how we expected.
The star of the night may have been Morrison's moustache, which made me wonder wether this thing is here to stay or if Darren Rovell and the Sports Marketing gurus are telling Adam to go with it. He's certainly got something going on there. I personally can't wait for the guy who brings back the 'Stockton' Shorts and keeps it going a little too long. I'm also hoping that it's someone like Artest, Jason Williams, AI, or Jeff Van Gundy from the sidelines. Someone who will bring it back so far out of left field that you would almost believe that Kobe would introduce the world to "Man tights." You'd
almost
belive it.
Another great Morrison moment came in the form of an actual Jay Bilas quote. Jay said of Morrison, "He couldn't guard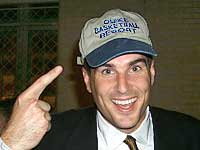 a bank with a machine gun." That's one of those moments that you know had you been there you'd stop the draft, turn to Bilas and in one of those 'you've been dying all night to say that' faces, you'd ask, "How long did it take you? Look me in the eye and tell me. How long? Wait, wait, wait, DAN. Before we go on; how long, Jay?" And I say this as a Bilas fan and as someone who watched the draft with the biggest Jay Bilas supporter out there. This also brings me to the sheer enjoyment of the look on Bilas' face EVERYTIME Stephen A. spoke. EVERYTIME. His face would turn red and he'd have to be thinking, "no matter what I say tonight, I will NOT sound as ridiculous as this guy." And how right he was.
Stephen A. Smith deserves his own blog here. He made enough bold statements and mistakes that you have to wonder what ESPN was thinking. You have Dickie V and Stephen A acting like this is their first barbecue. Please, fellas, let's pretend like you've been here before. (And incase you missed it....
Che
ese Doodles!)
Some great moments from the draft:
- Marcus Williams' mom saying that after her son's arrest she got her "mom game up." (what?)
- Also, learning that the guy who stole computers from dorm rooms also is skilled in "harvesting honey." Seriously!
- Rodney Carney thanked his "girl" for his success. Rodney, you are about 6 dozen more girls from finding one to thank for your success. Just enjoy the ride, my friend.
-Jeff Bower (right) is actually an NBA GM. No, a real one, not a fantasy GM. If he were a fantasy GM I'm sure his team name would be something along the lines of "Bower's Powers" or "Golden Bowers."
-Cedric Simmons built tree houses and hunted squirrles and rabbits for fun. Fur real!
-Knick fans almost killed Mark Jones post Balkman and pre-Collins. You knew what you were getting into Jones. We can't feel sorry for you. (And do you think that anyone wanted Isaiah to make a better pick more than Mark Jones. You can picture him standing in the middle of the drunk and rabid Knick fans as the words "Renaldo Balkman" were coming out of the commissioner's mouth and his face turning from 'please don't say Balkman' to, 'damn, he just said Balkman, didn't he?" as he covers his face and braces for the backlash)
- A ton of "Cash Considerations" changed hands. Those are even more ridiculous than the old 'player to be named later.'
-"Two Hat Guys."
-And finally, the end of a wonderful era. Mr. Russ Granik recieves the loudest applause of the evening and says goodbye in a classy fashion. I loved the appreciation he showed and then the "let's get down to business" line he gave. What a class act and fan favorite. He really will be missed and there will be some tough shoes to fill.
So, as the 2006 NBA draft concludes with some 'nice' picks, poor picks, and "Duck Folan" sings, all I can say is, "And with the 1st picl of the 2007 NBA Draft, from the Knicks, the Bulls select Greg Oden." Wake me up when it's over.