Thursday, July 06, 2006
Word is Bond!
Who would have thought that two guys named Bill and OJ would mean more to the Trojan community. The "Kings of Cali," Reggie Bush and Matt Leinart, have moved on, and, as of July 5th, Prep superstar OJ Mayo verbally agreed to attend USC in the fall of 2007. That's right, the Fall.... of 2007. Why is this a big deal? Well, first, because OJ Mayo is the biggest name to lace up on the high school hardcourt not named LeBron James or Greg Oden. He's a star. A "can't miss." And he is the type of player to turn a football town into a basketball haven before he even steps foot on the court. The likes of Brian Scalabrine, Paul Westphal, and Sam Clancy have all been top recruits for the program in the past. (Though, the women's program has more impressive names hanging from their rafters: Lisa Leslie, Cynthia Cooper, and Cheryl Miller. Who would win if those three all got together and played 3-on-3?
The answer:
David Stern)
Along with OJ Mayo would come his best friend and literal "out of the gym" leaper, Bill Walker. Bill Walker himself has been highly touted as a top 10 recruit. These two players can change the face of the USC program just like Greg Oden and the "Thad Five" will in 2006 for Ohio State.
I know that while I write this in the back of my mind a "verbal commitment" is just like going out to an expensive dinner, having a nice time, but not being physically attracted to the person. Then you have to either bite the bullet and give 'em the old, "you're really nice, but..." or take the road more frequently traveld and promise to call them the next day. It means nothing! So, is OJ Mayo trying to get out of the awkward goodbye, or is he really ready to wear the same "cardianl and gold" that the 'great red head' Scalabrine once called his own? Many think he's going to stick to his word and play ball at USC, however I do recall his "word" once exciting Bob Huggins fans when he said that he and Bill Walker were going to lace up wherever Bob Huggins lands. But, as they say in the streets: "Thy word is bond!"
(The next Lebron?) (A Loooong Tradition)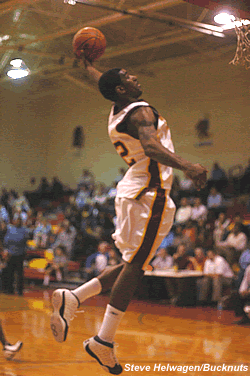 A Celebration of Sustained Mediocrity
The six active pitchers with the most losses are as follows: Greg Maddux (197), Tom Glavine (186), Roger Clemens (174), Jamie Moyer (160), David Wells (144) and Randy Johnson (143).
In the case of that distinguished sextet, the losses are a mere side-product, the inevitable result of pitching long -- and well -- enough to generate 200+ wins. But the next player on the career loss leaderboard is an entirely different animal, a crafty veteran who got by on sheer guile, who lost more games than he won, and who pitched for 12 different teams in his career. That animal is, of course, Terry Mulholland.
Yes, I'm referring to him in the past tense, and yes, there is a reason for that. The 43-year-old Mulholland was released by the Arizona Diamondbacks on June 21, having spent most of the year on the disabled list. Thus far, he has not officially announced his retirement, but all signs are pointing in that direction. If this truly is the end of the line for Terry Mulholland, then the sport will have lost one of its most likable and intelligent veterans, a baseball lifer who broke in with a 1986 Giants team that also featured Vida Blue and, believe it or not, Steve Carlton (Lefty went 1-3 over six starts, and was cut loose immediately after recording his 4000th career strikeout).
Sure, from 1990-1993 Mulholland was a front-line starter for the Phillies (albeit a mediocre one). He went 54-50 over that time, pitched a no-hitter (in 1990), and started the 1993 All-Star Game. Incidentally, he had the best pick-off move in the game.
But in the last decade Mulholland was a journeyman fifth starter/long reliever type of guy, the sort of unremarkable chap who managers like to have in the clubhouse because they can pitch on short rest and eat up innings when the rest of the bullpen is worn out. In short, he was an unheralded bit player, suiting up every day simply because he couldn't imagine doing anything else.
Who knows? Mulholland may catch on with another team this season. If the likes of Scott Erickson and Jose Lima can emerge from baseball purgatory (however briefly), then surely Mulholland can as well.
But if this the end of the line...Well, then I tip my cap to you, Terry. The baseball world is gonna miss you.
-----For the record, there are now just two 1993 Phillies remaining on an active roster: The Atlanta Braves' Todd Pratt, and, of course, Curt Schilling.