Thursday, August 24, 2006
Julio On His Birthday
Julio Franco -- the greatest role model in all of sports -- turned 48 last night.
48!
To hear Julio tell it, his birthday is just another day. As a denizen of the eternal present, Julio has no use for arbitrary markings of the passage of time.
Nonetheless, as a tribute to this enduring legend, we here at
High and Inside
have compiled Julio's birthday stats. Here is how he has fared on August 23 throughout his career:
August 23, 1983 (Cleveland Indians):
1-for-4 with an RBI as Indians lose to Angels, 5-2, in front of 7,001 fans at Cleveland's Municipal Stadium.
August 23, 1984 (Cleveland Indians):
2-for-4 with an RBI as the Indians fall to Blue Jays, 6-1. Doyle Alexander pitches a complete game for the Jays.
August 23, 1985 (Cleveland Indians):
2-for-5 with a double and two runs scored as Indians coast to a 10-5 win over Milwaukee. 6,292 fans show up at intimate Municipal Stadium.
August 23, 1986 (Cleveland Indians):
1-for-5 with RBI as Indians edge Red Sox, 5-4. Tom Seaver pitches for the Sox and does not factor into the decision, allowing four runs on nine hits over 5 1/3 innings.
August 23, 1987 (Cleveland Indians):
1-for-4 with a run scored as Indians fall to Tigers, 4-3. Jack Morris picks up a complete-game victory for Detroit.
August 23, 1988 (Cleveland Indians):
1-for-3 with a double, sacrifice fly and a run scored as the Indians defeat the Brewers, 6-2. Replaced at second base late in the game by the immortal Houston Jimenez.
August 23, 1989 (Texas Rangers):
1-for-4 as Julio's Rangers fall to the Oakland A's, 5-4. Dave Stewart earns the win, Kevin Brown takes the loss. Dennis Eckersley picks up his 27th save.
August 23, 1990 (Texas Rangers):
The 64-60 Texas Rangers enjoy an off-day.
August 23, 1991 (Texas Rangers):
1-for-3 with a run scored as the Rangers roll to a 6-1 victory over the Royals. Brian Bohanon tosses a complete game and picks up the win.
August 23, 1992 (Texas Rangers):
The Rangers crush the Indians, 14-4, but Julio was on the disabled list at the time (he was limited to just 35 games this season). A pre-boating accident Steve Olin takes the loss.
August 23, 1993 (Texas Rangers):
Julio (now a designated hitter after his injury plagued 1992) has his best birthday yet. The 35-year-old goes 2-for-3 with a double, walk, two runs scored and two RBIs as the Rangers roll to a 13-6 victory over Baltimore. Fernando Valenzuela takes the loss for the Orioles. Fernando Valenzuela!
August 23, 1994 (Chicago White Sox):
The season ended earlier in the month due to the player's strike. 36-year-old Julio sits at home and contemplates moving to Japan.
August 23, 1995 (Chiba Lotte Marines):
Julio turns 37 in Japan, with Bobby V's Marines. Unfortunately, day-by-day stats for the 1995 Japanese Baseball season are hard to come by. If anyone has any leads, please leave a comment.
August 23, 1996 (Cleveland Indians):
Julio's back with the Indians, but does not play in the Tribe's 6-5, 11-inning loss to Milwaukee. He may have been on the disabled list at this time. The details, they are scarce!
August 23, 1997 (Milwaukee Brewers):
2-for-4 with a run scored as the Brewers defeat the Tigers, 5-2. This may have been Julio's best game ever in his underwhelming Milwaukee career.
August 23, 1998 (Chiba Lotte Marines):
Julio turns 40 in the land of the rising sun.
August 23, 1999 (Mexican League):
Julio hit a stunning .423 in 93 Mexican League games. He appeared in one game for the Tampa Bay Devil Rays, and struck out (his only major league at-bat in the years between 1997 and 2001). What he was doing on his 41st birthday remains unclear.
August 23, 2000 (Samsung Lions):
Back in Asia, but this time in South Korea. Birthdays are illegal there, so it is best not to ask what Julio did to celebrate number 42.
August 23, 2001 (Angelopolis Tigers):
Back again in Mexico – but not for long. In September 2001, the Atlanta Braves ended Julio's stint in baseball purgatory. He has been back in the Major Leagues ever since.
August 23, 2002 (Atlanta Braves):
In his first Major League birthday appearance since 1997, Julio goes 1-for-4 with an RBI in the Braves' 4-3 loss to the Dodgers. The 44-year-old makes an error at first base (his sixth miscue of the season).
August 23, 2003 (Atlanta Braves):
Does not play, as the Braves beat the Rockies, 5-4.
August 23, 2004 (Atlanta Braves):
The 70-53 Braves enjoy an off-day as Julio turns 46.
August 23, 2005 (Atlanta Braves):
Pinch-hits in the ninth inning of the Braves' eventual 10-1 loss to the Cubs. Strikes out – this is the first time Julio played on his birthday and did not collect a hit.
August 23, 2006
(New York Mets): Does not play in the Mets' 10-8 win over the Cardinals, although he does make an appearance in the on-deck circle.
Julio on his birthday:
13-for-40 (.325)
The record of Julio's teams when he is on the active roster on his birthday:
7-6
How Much Did I Just Give?
NBA's favorite big man with seven names, Dikembe Mutombo (Mpolondo Mukamba Jean Jacque Wamutombo), announced that he would donate
$15 million dollars
to build a 300-bed hospital in his home country of Congo.
Now, this is a generous act. No question about it. But, then comes the news today that the NBA's version of Orlando "El Duque" Hernandez (he says he's 38, but Jeff Van Gundy seems to think that he's "probably 48 and might be 58) wants to play at least two more seasons. This could turn out to be a great story if he can come back and play significant minutes in the Association. However, it got us to thinking....
Why?
Is it possible that Dikembe, who's earned over
$110 million
in his career, might be having some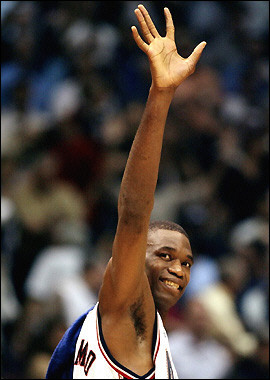 "buyer's remorse?" I highly doubt it. He doesn't seem to be the kind of guy who spends his "bank" on extravagant things. Maybe some extra tall slacks here and there and a Premium Cable package. I don't think he's dipping into his Disney Vacation coin jar.
Is it really that hard to realize when your time to hang up the old size twenty-two's has come? We've seen in before in sports when guys just don't know when to quit. Is it time for Dikembe to stay at home and write the crime novel he's had floating around? Maybe.
Personally, I think that he could be a serviceable big man in the NBA. It's possible. There are always jobs available for 7'2" centers in the NBA. But, does he want to be the 7'2" version of Mateen Cleaves, waiving a towel at the end of the bench?
Another question we have to ask is whether or not the NBA has a need for a lumbering 7'2", 38(ish) year old, center anymore? A guy like this would not even see any playing time against such teams as the Suns or the Nuggets (who look fast this year) or anyone else with a young athletic big man. The NBA just doesn't seem to suit him and his style of play. We talk about the style of play in America being "quick" and dominated by "slashers." Well, we saw that with Dwyane Wade putting a tired Shaq on his shoulders and winning a championship. Shaq, one of the most dominant 'bigs' in NBA history, wasn't even really a factor. Is the bump and grind style of play that Shaq and Deke are used to becoming extinct? Look at it this way: do you think Dwight Howard and Chris Bosh with their quick footwork would have a field day down low against Mutombo? I certainly do.
So, Dikembe, we love you and all, but I think you may be better off recording a record with Bono. You and your seven names, and Bono and his one. Interesting...